On a day were we as people, we are reminded of things we are thankful for, the Oakland Raiders yet again remind us why there is no need to thank them for this season.
This was supposed to be a chance for us to show the nation some, or any progress we have made through the first 11 weeks of the 2009-2010 season, yet once again we were let down by the team we support.
It's not that we expect championship performances (rolls eyes) each week from the Raiders but just show us that…
1) The players are getting better and we are improving, coaching staff etc..and…
2) Although it's bad now we can at least have hope for the future.
However, what we are left with as Raiders fans is a whole lot of unknown.
Our 32 million dollar guaranteed "franchise" QB JaMarcus Russell sits on the bench and gets out played by Bruce Gradkowski. Sad.
Our franchise RB Darren Mcfadden had six rushes for 23 yards on Thanksgiving, nothing great, not even average. Sad.
In the end, we are left with a 3-8 record and a trip to Pittsburgh next week. Who thinks we will win this one? Raise your hand.
Now I don't want you to get the wrong idea over this article, I don't like to focus on negatives, but when you get beat like you did today there is no need to even discuss the positives in a lost, because there aren't any when you lose.
What could you say? Heyward-Bey had a TD catch? Great.
Bruce didn't throw any interceptions? Great.
Truth is, the Raiders aren't a good enough team to go into that 80,000 seat sold-out stadium and beat the Cowboys, shoot the Raiders barley play in front of 30,000 fans at home.
With each loss we are only reminded how bad this season has gone for us, we as fans had much higher expectations, there is no need to single out one person, there is enough blame to go around for many players and coaches on this team.
Games now are pointless, there will be no playoff hunt this season.
All we have to look forward to is the future, but just what is our future? JaMarcus Russell? Darren Mcfadden? Darrius Heyward-Bey? Tom Cable? John Marshall? Nobody knows. Each season we are left with the same results
As for the Dallas game, it was ugly, if you are reading this article them im sure you must seen the game for yourself.
There is no need to go over stats and all of that.
The defense couldn't stop the Cowboys offense, and the offense couldn't score on the Cowboys defense, simple as that.
Having to sit and listen to these broadcasters who don't even watch the Raiders every week to try to discuss Raiders football is a joke, all they do is poke and make fun of the Raiders.
I'd rather have us get beat in dirty old grimey Oakland Coliseum in front of 30,000 fans and a blackout on TV then for us to go on the National stage and show the nation what we as Raiders fans see each week.
Raiders fans have been left in the dark for years, we have ZERO clue what to expect from our squad, all we can do is "hope" not to lose instead of "expect" to win. However, all I ask from you is to just understand that I'm not some Raiders hater who only talks bad on the Raiders. The Raiders are my favorite team in all of professional sports, I haven't missed a home game since 2005, week after week I support these guys, but I'm just tired of being in the unknown.
When you see teams like the Colts, Saints, Vikings etc…They known whats going to happen each week, they known who there coach will be in the future, they known who there QB will be for the next few years, they expect to win each week.
All of these traits is what used to be of the Oakland Raiders, yet now a days we as fans can only lie to ourselves, the Raiders are just a mess, weather we like to accept it or not.
P.S.
Johnnie Lee Higgins…Where have you been this season man? You have DONE NOTHING for us, expect get knocked out by Eric Weddle in the opening game of the season. That was your best highlight so far this season.
Also that flat-top and rat tail looks stupid, you need to cut that off.
Read more NFL news on BleacherReport.com
Far far away from the bright lights and tall buildings of New York City lays a city on the west coast Oakland, California.
For you Jets fans entering Oakland is entering the ghetto, we have one of the most dirty, grimey, nasty stadiums in the NFL and we love it. The Raider Nation is cut- throat to the highest degree.
Not only do we want to win, but we want to knock your skull off and spit in your eye.
Nevermind the records, because when you enter the Black Hole the madness will start. You will feel the vibe of the crowd and then you will understand what the Raider Nation is about. 
You will see the New York Jets 53 man roster vs 60,000 Raider fans. The Raider Nation is fresh off a win, here in Oakland we are sick and tired of losing. Enough is enough.
The fan base will yell, scream, throw objects on the field anything we have to do to see our Raiders win.
This isn't the Southern California sunshine, beaches, and surf boards.
This is Northern California, the Bay Area, home of the purp, sideshows, ghost ride the whip, go dumb, get stupid. This is home of the Oakland Raiders, Town Business.
For the Jets fans brave enough to wear those ugly green jerseys into our stadium you better cross your fingers, if the Raiders win, all Jets fans will hate the after shock of a Raider Nation win.
There is nothing worse than leaving the Black Hole if you are the away team. There will be fights, people will be going to jail, in Oakland it's more then football. The Raider Nation is ready to fight, players, coaches, and fans.
To all Jets fans who read this…
THE RAIDER NATION AWAITS YOU IN OAKLAND!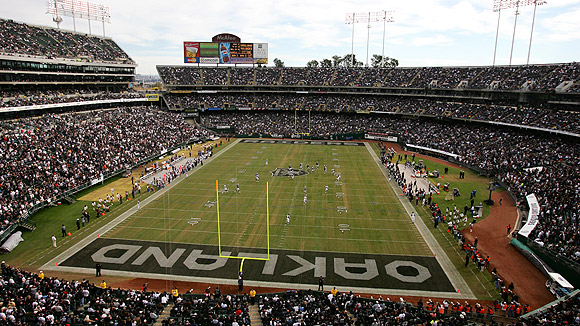 Read more NFL news on BleacherReport.com
Michael Huff and the rest of the Oakland defense led the Raiders to victory.
Though the stats say the Kansas City Chiefs had a good game, the Raiders defense was able to hold strong at key points of the game.
Huff came up big for today with two interceptions on the day. This is great news because this is the Michael Huff we've have been waiting for with both interceptions killing drives for the Chiefs.
On defense, Kirk Morrison lead the way with 13 solo tackles and Thomas Howard chipped in eight solo tackles.
You can state that the Chiefs had tons of yards, but you can also make the case that the Raiders offense struggled, thus keeping the Raiders defense on the field.
Time of possession was 39 minutes for the Chiefs and only 22 minutes for the Raiders.
If it wasn't for the Raiders defense not allowing the Chiefs to put up points, then this game could have gotten ugly. That is why the defense must be thanked for this win.
A key point in this game occurred when the Chiefs had the ball with 14 seconds left before half with no timeouts. Instead of kicking the FG, they decided to try for the end zone one more time and were stopped inbounds by Nnamdi Asomugha, forcing the Chiefs to lose out on a halftime lead as the game went into half 3-3.
Thanks on the day can also go to the Kansas City Chiefs' offensive line for its many penalty flags.
With that being said there are three key moments/players I would like to talk about.
1) Javon Walker:
Tom Cable, why in the world would you have this guy on the field trying to return punts?
I believe it was in the 3rd or 4th QT, the Chiefs punted the ball back to our own 20 and instead of getting out of the way, Javon Walker stupidly sticks his hand out trying to make a catch.
I don't know if he felt he was going to return that for a TD or what, but there is no way he should be trying to even touch that ball. He had no read on the ball in the sky, it was like I was watching it in slow motion, saying to myself—"Javon's going to screw up, Javon's going to screw up, Javon's going to screw up"…and what did he do? Screw up.
It almost makes me think that he was trying to do that on purpose in order to ruin the game for. I still don't know whats going on with Javon Walker. This leads me to my next player.
2) Mike Mitchell:
Thank you, Thank you, Thank you.
Mitchell was able to recover Walker muffed punt catch. I was very glad that Mitchell had his head in the game and was focusing on the ball. Mitchell didn't have any stats, and didn't see much playing time on defense, but that play was huge for. This is what it takes, everyone must play a role in winning whether it's small or large.
3) Todd Watkins:
Todd Watkins played hard today.
He didn't see many balls come his way, but as the 3rd WR he ran his routes hard. Watkins had one catch for 28 yards and it was huge. All of the OTA's, Mini camps, training camps, preseason games—all of the hard work from Watkins in the offseason was put into that one catch. I'm glad to see someone who put in some hard work had it pay off.
4) Sebastian Janikowski:
It's not easy kicking FG's on the road.
Janikowski was clutch today hitting from 48 yards and 54 yards. Those 2 FG's lead to the win.
Regardless of the stats for both teams, all that matters is that the Raiders won the game. Kansas City is a tough place to play for the Raiders and the games between the two teams always end up close.
Jamarcus struggled, yes.
In the end, Russell came through and led the 4th QT comeback win, if anything the Raiders escaped and now that they are back to .500, can now look to beating the Denver Broncos.
The game versus the Kansas City Chiefs was a test. Now the upcoming game versus the Broncos will go along way to tell which way the season will go.
To all my Raiders fans, enjoy this win.
It feels good to win.
Read more NFL news on BleacherReport.com
Regardless of how much Richard Seymour plays on opening night vs. the San Diego Chargers on ESPN Monday Night Football, just having him with the team will be great. The holdout is over and he is expected to arrive in Oakland, CA today.
Seymour will play under his final year of his current contract. The Raiders didn't offer him a new contract, nor did the Oakland Raiders promise to not franchise tag Seymour next year.
I'm just so glad to hear this news; now all the Raider hate about Seymour can stop and we can refocus on the San Diego Chargers.
More news on this topic to come: Richard Seymour is on his way to Oakland, CA.
NEW DETAILS
Ron Borges Of the Boston Herald interview with Richard Seymour
New Raiders defensive end Richard Seymour will board a flight to Oakland this afternoon, bringing an end to a five-day long Sit Out that kept him from reporting after the trade. Before he left, he spoke with Boston Herald columnist Ron Borges, his first public comments since it all went down.
He learned of the trade when Bill Belichick called him and simply said, We traded your rights to Oakland.
"First of all, I was blindsided by this whole event," Seymour, the five-time Pro Bowler, told Borges. "When you get blindsided, you should take a moment to gather your thoughts. I have a lot of personal issues more pressing than football."
Seymour said if you want to watch for him with his new team, he'll be wearing No. 92 on Monday Night. "I'll be the guy on top of the quarterback," he said.
Seymour does plan to play in the opener, obviously. Oh, and did you know he grew up a Raiders fan? Apparently, there are a bunch in South Carolina.
Before we go further, it's worth noting that Seymour has been in regular contact with Raiders coach Tom Cable and owner Al Davis about his issues. And what are they?
Well, Seymour has four children, plus, he is the guardian of his 15-year-old cousin whose mother has passed. The 15-year-old had been in school in South Carolina until this year, at which point he was starting in North Attleboro… until the trade.
Now, Seymour's wife and family are moving back to South Carolina (where they are from) and Richard will head to Oakland by himself.
"There are a lot of different emotions," Seymour said. "Football was not my main concern at that point. I have had discussions with the Raiders… I'm excited and happy with the way they're looking at me."
Did he ever demand an extension or a guarantee of not being franchised?
"There have been conversations," he told Borges, "but I didn't demand anything to go there. I'm happy to go there, and I told them that. But me and my family have never been separated. This was a difficult transition."
He also noted that the NFLPA filed a grievance on his behalf about the five-day letter, arguing that it was not the Raiders' right to send it to him.
"But that's more of a procedural thing," Seymour said, not really specific to his situation.
Read more NFL news on BleacherReport.com
Live from Oakland, California rapper Ice Cube will perform his new song called "RAIDER NATION."
The performance will take place on Monday Night Football when the San Diego Chargers go up against the Oakland Raiders in a huge ESPN prime time matchup between division rivals of the AFC West.
Ice Cube, a life-long Raiders fan, has been repping for the silver and black since the 80's. Al Davis has invited Ice Cube to come out and put on the pre-game show which will have the fans and players fired up and ready for war.
Although the media and major sports networks show hate towards the Oakland Raiders, there are still many loyal celebrity fans who have been down with the Raiders since day one.
It's going to be great to see the Raiders come out to that song; I've been looking forward to this game for some time, and with the news of Ice Cube performing, it only makes it better.
The place will be sold out and loud; get ready, Raiders fans. Ice Cube is going to set it off in a major way. YAAAAY, YAAAAY!
Another thing that I've read is that pre-game from 2pm-6:30pm the Oakland Raiders will introduce a new fan fare event for every home game called "Raiderville."
It will be located in the south parking lot (same side as the RV's) in parking lot G.
"Raiderville" will be a half pipe snow mountain, in which snowboard riders will perform aerial stunts presented by Coors Light; there will also be autograph sessions with Raiders' legends.
The Raiderettes will also preform live on stage as well.
Not only that, the Oakland Raiders will introduce for the first time ever their own drum line marching band, in which they will be going through the parking lot making tons of noise.
It should be a great time out in the south parking lot; they will also have nine foot LED HD TV screens with all the games from around the NFL playing.
In the north parking lot, there will be the side of the Black Hole tailgate party. These are always fun and crazy.
Either side you are on, you should be able to get into some fun action, and if you are early enough you might be able to see both parking lots.
Be sure to have your beer in hand, and purp in the air.
And don't forget your ticket at home!
Go Raiders, see you guys out there.
Here is a video of Ice Cube talking about his performance for Monday Night Football, San Diego vs. Oakland.
ICE CUBE TALKING ABOUT MONDAY NIGHT FOOTBALL
Read more NFL news on BleacherReport.com
Shawne Merriman was arrested early Sunday morning, after choking and physically restraining TV celebrity Tila Tequila.
Merriman was taken into custody at 3:45 a.m. local time and charged with battery and false imprisonment. Tequila was taken to a local hospital for treatment for loss of breath and cuts to the face.
Shawne Merriman is 6'4″, 265 pounds. Tila Tequila is 5'0″, 98 pounds.
265 lbs. vs 98 lbs. Who do you think is going to win?
There is no need for Shawne Merriman to be putting his hands on any woman.
It got so bad and ugly, Tila was forced to call the police to come save her. Good thing the police showed up, or there's no telling what Shawne Merriman would have done.
This could be really bad for Shawne Merriman, as the NFL will most likely suspend him once the details come forward.
With only nine days until the Monday night season opener, in which the San Diego Chargers will face the Oakland Raiders, many questions will arise. Answers will need to be dealt.
The real questions is…
What in the world was Merriman thinking? After all this time in working to come back into the NFL, why would he do something so stupid to not only hurt himself, but his team as well?
Roger Goodell has been very strict on anything that makes the NFL look bad, and players choking women at 3:45 AM certainly makes the NFL look very bad.
This also raises the questions to whether Shawne Merriman is still on steroids, and having roid rages?
It also makes you wonder if alcohol was a factor in this? Overall, this is a really crazy story, and I'm sure Goodell will put his foot down hard on this one. NFL players can't be choking women and get away with it.
Shawne Merriman needs to understand that the NFL season is only four days away. Has he lost his mind? Maybe he needs to be suspended. Goodell must set an example out of this so it will never happen again.
Read more NFL news on BleacherReport.com
The Oakland Raiders traded their 1st round pick in 2011 for five-time Pro Bowl defense lineman Richard Seymour.
Get ready Raiders fans, Seymour is on the first flight to Oakland, California to join his new teammates to prepare for the upcoming season.
Seymour, who was drafted sixth overall in the 2001 NFL draft, is a three-time Super Bowl Champion.
At 29-years old, Richard Seymour is a major upgrade for our defensive line. Seymour brings the ability to stop the run, and put pressure on the QB. In 2008, Seymour had 8 sacks and 52 tackles.
Standing in at 6'6, 310 pounds Richard Seymour is a beast on the defensive line. I'm so happy the Raiders pulled this trade off; we needed help with stopping the run. Seymour will do wonders for our LB's Kirk Morrison and Thomas Howard.
The thought behind sending the New England Patriots our 2011 1st round draft pick is the Oakland Raiders expect to improve and make the push to becoming a team who will contend each season for a playoff spot.
The Oakland Raiders are loaded with tons of young talent. By bringing in Seymour, the Raiders have added another proven veteran.
The great thing about that draft pick is that it's two years away, New England gets no value for Seymour until two years from now. Even with that there still is no telling where that draft pick might be or what kind of talent will come out of the 2011 draft class.
Overall, I look at this trade as a steal for the Oakland Raiders, I'm even more excited now knowing that Richard Seymour will be in the Silver and Black.
Welcome to Oakland, California Richard Seymour, We are glad to have you.
It's going down in the town!
Raaaaaaaaaaaaaaaaaaaaaaaaaaaaaaaaaaaaaaaaiders
Read more NFL news on BleacherReport.com
Today I was reading Yahoo! Sports and came across an article written by Michael Sliver who rated the NFL owners from 32 to 1 (worst to best).
Even before clicking the link, I had a feeling this was going to be a negative post towards the Oakland Raiders and their owner Al Davis.
I sometimes wonder how a guy like this becomes a writer for a major website like Yahoo.
What bugs me most about this article is that just six seasons ago, Al Davis had his franchise in the Super Bowl.
Franchises go through down periods. No team is perfect. No owner is always right in moves they make and some do little to help the product on the field.
Some owners take risk.
Al Davis has been in charge of the Oakland Raiders since 1963.
Al Davis was born in 1929—Michael Sliver there is something which you need to learn and its called respect.
Al Davis has created one of the most successful franchises in all of professional sports with the Oakland Raiders as one of only two teams to play in the Super Bowl in four different decades, winning three of them.
Not only that but Al Davis was Pro Football Hall Of Fame inductee in 1992 and has seen a record nine former players of his be inducted along side him.
You can call his methods crazy all you want but the by not following the popular trends and doing things the "Al Davis" way, the Raiders have been quite successful over the years.
Look at the list of teams who haven't won a single Super Bowl
Buffalo Bills, Cincinnati Bengals, Tennessee Titans, San Diego Chargers, Philadelphia Eagles, Minnesota Vikings, Carolina Panthers, Atlanta Falcons, Seattle Seahawks, Arizona Cardinals, Cleveland Browns, Jacksonville Jaguars, Houston Texans, Detroit Lions, and New Orleans Saints.
None of their owners (past or present) were able to win a single Super Bowl.
How in the world can you base your opinion of Al Davis off of solely his last six seasons?
Do you think Al Davis cares what you think of him?
So what the man is old? People feel that his loss of touch and overall downturn on the field is due to his age.
Well, you know what…When the Oakland Raiders rise again many people are going to have to eat their words.
In football terms, we are talking about a living legend. Look at the picture I posted above. Do you see that smile from winning the Super Bowl?
That fire still burns in Al Davis—even today as we prepare for the 2009-2010 season.
When it comes to football Al Davis knows what he's doing.
I don't care what you say, the Oakland Raiders are on there way to getting respect back. People love to kick someone while there down, but soon you will remember what it was like to play the Oakland Raiders, and what the Sliver and Black stand for. I don't care how long it takes, we will be back with Al Davis leading the way.
Draft expert, after draft expert hated on Al Davis for picking Darrius Heyward-Bey over Michael Crabtree, they said Al Davis proves again why Oakland will never be good until Davis leaves office.
Yet look how the whole saga has turned out.
As we prepare for the upcoming season, Crabtree has yet to sign, and Heyward-Bey is ready to go.
Stop acting like Al Davis is the only owner in the league to hit and miss on NFL first round draft picks, in the end, Al Davis was right more times then he was wrong.
I don't want to go on and on, and I never meant for this to be this long in the first place, but I just can't stand by when reporters like Michael Sliver write these uninformed articles for the public to read.
Al Davis isn't the worst owner in the NFL.
He has the rings to prove it.
Davis is a winner, always has and always will be—he has created the Oakland Raiders image, the Raider Nation fan base and the Black Hole. We are talking about Oakland California, TOWN BUISNESS!!
Al Davis runs his team out of my home, the Bay Area of Northern California and I couldn't be more proud of the man.
I love going to games and repping for Al Davis and the Raiders. I understand we have been down for some years, but to all my true Oakland Raiders fans, when our time comes around, the Raider Nation will once again shine on the rest of the NFL.
Thanks to all my Raider fans for reading.
SR
Michael Silver's Team Ownership Ranking: 1-16 and 17-32
Read more NFL news on BleacherReport.com
The stage was set, Horse fans from all over the state of Colorado came to boo their once beloved QB Jay Cutler. Fans dressed up in baby costumes with pacifiers in their mouths, there was people with signs, and the stadium was rocking. This was the chance for pay back.
However, Horse fans, Jay Cutler isn't the one to be mad at. It's Josh McDonkey for running Cutler out of town with trying to trade Cutler for Cassel.
In fact by the end of the season, those hate signs for Jay Cutler will turn into Fire Josh McDonkey signs.
Before the game, I predicted the first half score to be 21-3.
I was only off four points as Jay Cutler lead the Chicago Bears to an 17-3 halftime lead.
Cutler was on point as he went 15/21 for 144 yards and 1 touchdown pass.
Cutler was able top pick apart the Horses defense, they could not stop him as on Cutler final drive of the night he went 98 yards.
Cutler was unfazed by the Horse fan noise as, Cutler has said public that he feels the Horse fans on scale of noise is only a six out of 10. Plus you throw in that fact that he owns that stadium even if he is on the visiting team.
The Chicago Bears have found themselves a franchise QB, Jay Cutler will end his career in Chicago, and that franchise will be able to build around Cutler. The trade of a couple draft picks will never amount to the skill level of Jay Cutler.
It was on first hand display in front of Denver owner Pat Bowen as he had to sit and watch Jay Cutler out play Kyle Orton.
Will Kyle Orton end his career in Denver? Who knows? Is Kyle Orton someone you call a franchise QB? once again who knows?
Kyle Orton for the third straight week didn't impress, he had his chance to show Horse fans why things would be ok, across the field was the same Chicago Bears team who didn't want him, however, once again Kyle Orton failed.
Where is the heart? Kyle Orton had to come out the game with a chipped finger nail? Tony Romo played last season with a broken hand, and you mean to tell me not only did Kyle Orton come out the game with five mins left in the second half but had to go to the locker room?
What ever happened to just whipping the blood off and putting some tape around the finger.
Kyle Orton looked soft, while Jay Cutler looked great, Cutler was hitting passes left and right and you can really see how he makes other players around him better, Greg Olson, Matt Forte, Devin Hester, all of these players become better with playing with Cutler.
The look on Josh McDonkey face while Jay Cutler was ripping apart his defense while Kyle Orton was in the locker room for his finger was priceless.
Pat Bowlen must be second guessing himself.
It's not the system, it's the players in the system.
Kyle Orton is not the answer.
Jay Cutler just took a dump on the whole state of Colorado.
The 2009 Raider Nation Celebration is set for Saturday, August 8th from 1:00 p.m. to 5:00 p.m. at the Oakland Coliseum in Oakland. You don't want to miss this one-of-a-kind, family-friendly event which will feature current Raiders players and coaches, Raider Legends and the Raiderettes—Football's Fabulous Females, as well as chances to win exciting prizes.
This FREE event, presented by Comcast, features a Raiders practice session, interactive Kids Zone, select autograph and photo opportunities with the Raiderettes and Raiders Legends, Lockers of the Decades, the Super Bowl Trophies and live interviews with legends and current players. Parking is also free.
The Raider Nation Celebration promises to be a great day for Raider fans of all ages.
Under Armour Combine
Fans will have the opportunity to participate in the 40-yard dash, short shuttle, and vertical jump. Under Armour has been a proud sponsor of the Raiders for the past two seasons, and we welcome them to the Raider Nation Celebration. In order for fans to participate, they must wear the proper attire, and sign a waiver which will be available at the entrance to the field the morning of the event.
Magnet Schedules
Raiders representatives and volunteers will hand out 2009 magnet schedules to every fan in attendance upon entering the Oakland Coliseum.
Select-A-Seat
Be there for every snap during the 50th Season of Raiders Football. Fans who are interested in acquiring new Raiders Season Tickets will be able to personally inspect and choose from the best available seat locations on Saturday morning, August 8th from 9 a.m. to noon.
This Select-A-Seat event will open the Oakland-Alameda County Coliseum to new season ticket buyers, where the best remaining season ticket locations will be marked for sale so you can personally select your favorite seats. This is not a relocation event for renewing season ticket holders—they enjoy the exclusive benefit of having priority access to purchase, relocate to, or add any available seat locations. Contact your ticket service manager directly at 1-800-RAIDERS (724-3377) to discuss our available inventory.
Season tickets are the best way to guarantee your spot in the Raider Nation for the entire 2009 home schedule that includes great games against the San Diego Chargers on Monday Night Football, Kansas City Chiefs, Denver Broncos, Philadelphia Eagles, and New York Jets. Available seating, including club seats, will be marked and members of the Raiders sales staff will be available to answer questions.
The stadium will be cleared at 12pm, then reopened at 1pm for the start of the Raider Nation Celebration. The Raider Nation Celebration will run from 1pm-5pm, with a scheduled full team practice taking place on the field, as well as many free, family-friendly activities. There will be opportunities to meet Raider Legends and Raiderettes, as well as limited opportunities for current player autographs.
To beat the rush and get your season tickets before the Select-A-Seat, please call the Raiders today at 1-800-RAIDERS (724-3377) and speak with a sales representative. For more information regarding Season tickets and ticket prices please visit http://www.raiders.com/tickets
The Select-A-Seat event and Raider Nation Celebration are free and open to the public. Parking is free for both events as well. Fans will need to proceed to Gate D to sign in and enter for the Select-A-Seat event.
Fans desiring further information on the Select-A-Seat program may contact the Raiders Sales Department at 1-800-RAIDERS (724-3377).